The economic benefits brought by the charcoal briquette production line
The charcoal briquette production line can bring very considerable economic benefits to people. In addition, it can also promote the sustainable development of the energy conservation and environmental protection industry. At present, the world economy is in a period of rapid economic development, and the demand for industries such as industry, agriculture, and civilians is very large. Therefore, the production of charcoal briquette production line has a certain promotion effect on the development of mechanism charcoal in the market.
The charcoal briquette production line is easy to operate, easy to understand and easy to learn
Generally, it can fully grasp the operation process after 3-5 days of study. A modified auger and wear-resistant forming sleeve are used. The finished product ratio varies according to the raw materials and the yield. The wood yield is 80%, the other yield is 40%-70%, and the comprehensive yield is over 55%. The waste is also processed into finished products, which can also be replaced with real gold and silver. The economic and practical charcoal briquette machine complete production equipment – charcoal machine, the sawdust, branches, rice husk, peanut skin, wine residue, sugar cane bagasse, corn cob, coconut shell, and crop straw, etc., through high-temperature High pressure made of high-quality charcoal.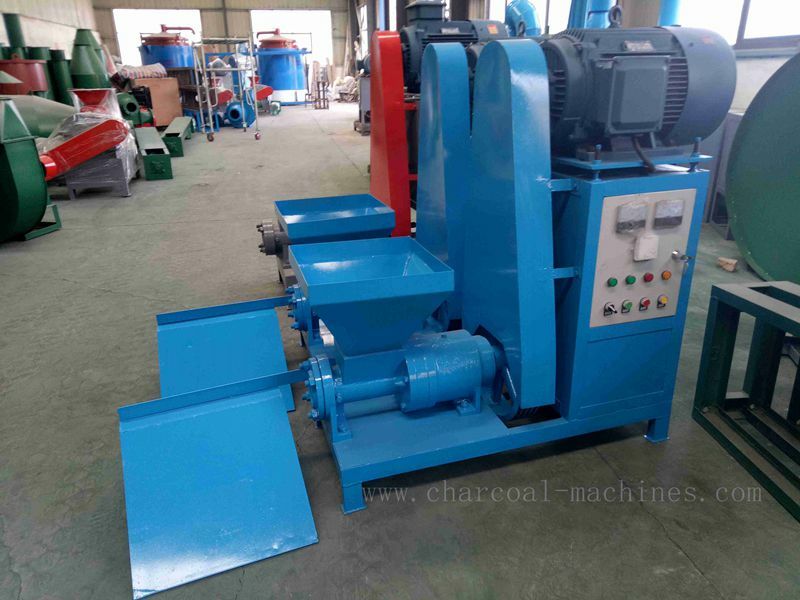 The mechanism charcoal products are highly efficient, environmentally friendly, clean and non-toxic, and have good market sales and broad prospects. The patented technology of the charcoal briquette machine has less competition; the new generation has increased production capacity and reduced energy consumption, surpassing competitors. The material is cast from integral cast steel, which is super wear-resistant and pressure-resistant. A "preform" device is added to the silo. The density of the extruded salary bar can be adjusted arbitrarily, and the bar section is smooth and shiny.
The industrial field is mainly used in metallurgical chemicals, such as activated carbon plants, silicon carbide plants, silicon refining plants, mosquito-repellent incense plants, thermal insulation materials factories, etc.; it is also applicable to agriculture, animal husbandry, catering, people's living heating barbecues, shabu-shabu, etc. Compared with charcoal, the charcoal produced by the charcoal briquette machine has the characteristics of high density, high carbon content, large calorific value, low ash content, long burning time (generally four times that of ordinary charcoal) and odorless. The research facilities of the charcoal briquette machine, rich production experience, rigorous scientific management, perfect quality system, and sustainable development business philosophy are the reliable guarantee for each investor's success.
The production of charcoal briquette machine has solved the problem of charcoal in various fields in China. The mechanism of charcoal production line production has also been well utilized in various fields. At the same time, it has solved the problem of agricultural and forestry waste utilization and protection. The ecological environment and resources have been realized, and waste recycling has been realized.