How to maintain the rod making machine
In the charcoal machine, rod making machine is a necessary equipment, which is mainly used to make materials into fuel rods, so how should we use the rod making machine to maintain?
How to maintain the bar making machine?
Clean up the dust shot down on the equipment of the rod making machine, and pay attention to dust removal in the process of demolition. In the demolition inspection, dust should be forbidden to intrude into the moving parts.
Open the internal cleaning inspection, and check the wear and tear of bearing, screw, triangle liner, nozzle and other components, replace bearing grease.
remove the bearing cover of the roller shaft and check the wear condition of the bearing.
remove the visual cover of the reducer to check the wear and the gear position of the gear.
check the foundation bolts and release and tighten the safety bolts.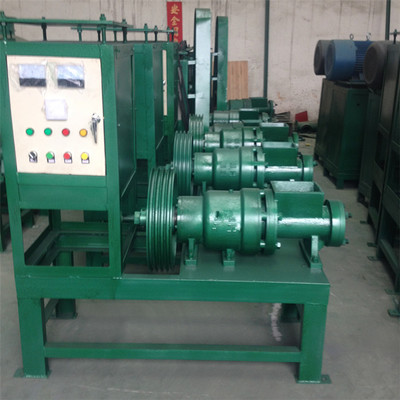 The use and inspection of lubricants for bar making machines:
the gear oil in the open gear box should invade the gear more than 60 millimeters.
roll shaft bearings are switched on once every three months to replace grease or grease guns.
Reducer with gear oil, injection into the gear 60mm can effectively daily maintenance and maintenance can extend the service life of equipment, can reduce the shutdown caused by parking, can effectively ensure the continuity of equipment work.
Above is Shuliy machinery for the majority of users to analyze the selection of the use of rod machine to choose according to their own needs, while doing a good job in the maintenance of rod machine, so as to ensure that the rod machine can be smoothly made, and ensure the service life of equipment.